I welcome all students from beginners to yoga instructors seeking to deepen their knowledge and enhance their lives through the practices of yoga. I hope you will come learn, share and practice with me.
June Changes in Yoga Schedule
Greetings Yogis:
Due to some exciting news, I will I will be out of the studio Monday, June 25 - Friday, June 29.
CLASS CHANGES & CANCELLATIONS
Monday, June 25
Align & Flow Yoga 10-11:30am at Glenwood Life Center - cancelled
Ashtanga Yoga Semi Private 6:30pm at Yoga Flow Studio - cancelled
Tursday, June 28
Align & Flow Yoga 10-11:30am at Glendwood Life Center - held with LAUREN SILVERSTEIN substituting. I hope you will join her for a great practice!

I have been invited to assist Beryl Bender Birch at her Power of Practice retreat at Omega Institute June 23-29! There are still some spots available so would love for you to join us!
Beryl was my first main yoga teacher and because of her that I found my way to the yoga path. Beryl was put in the spotlight with the publishing of her first book POWER YOGA. Since then she has written many other inspiring books on yoga including Beyond Power Yoga And Boomer Yoga.
Beryl is an authentic visionary. She is a long time leader in speaking out on the the critical importance of spiritual revolution, the combination of activism and practice.
See below for details.
Hope to see you there!
I recently attended a powerful Zen Meditation (Sesshin) in NYC with Father Michael Holleran. He is an extremely interesting man. A Catholic priest Sensai (Zen Teacher) and former Carthusian monk.
To learn more about him, follow this link: hhttp://www.michaelkholleran.org/.
As part of the ritual of the Zen practice, the following powerful vows and verse were recited. Their urgent messages still linger in my mind.
The Boddhisatva Vows
------
Creations are numberless, I vow to free them.
Delusions are inexhaustible, I vow to transform them.
Reality is boundless, I vow to perceive it.
The awakened way is unsurpassable, I vow to embody it.
~ ~ ~ ~ ~ ~
Let me respectfully remind you Life and death are of supreme importance
Time passes swiftly and opportunity is lost Each of us should strive to awaken
AWAKEN!
Take heed
DO NOT SQUANDER YOUR LIFE
- Dogen Zenji
Sending Blessings and Love, Lorraine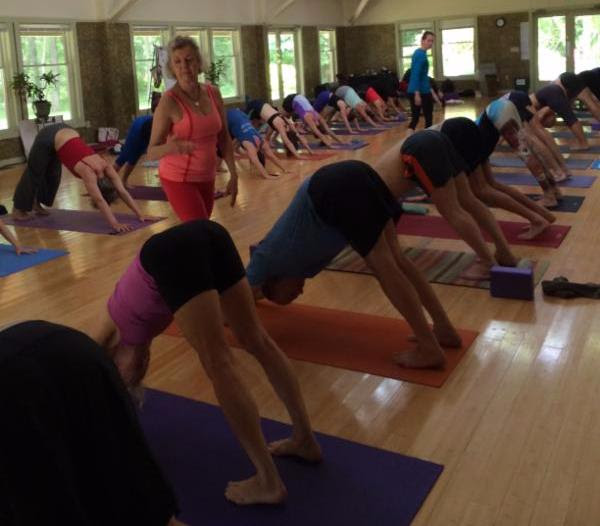 The Power of Practice Classical Yoga Training for Teachers & Practitioners
June 24-29, 2017
While many yoga instructors teach asana (postures), very few are teaching a comprehensive vision of the complete eight-limbed path of classical (raja) yoga. Many students are longing to go beyond asana and dive deeper into meditation and pranayama. Yoga teachers today have the capacity to provide the spiritual guidance for a global shift in consciousness. You can change the world and help others develop kindness, compassion, and joyfulness, the encoded teachings of the Yoga Sutra.
In this yoga training for teachers and passionate practitioners, yoga pioneer Beryl Bender Birch leads you daily in her Present Power yoga practice, and in meditation and pranayama practices as well. Strengthen not only your body and mind, but also your ability to share this methodology with your students and friends. Through discussion and meditation uncover new realms of classical yoga's inner limbs hidden in the Yoga Sutra. Birch's teaching helps you catapult your own practice beyond asana to the outer edges of your spiritual potential, moving you from self-centeredness and simple survival to the joyful and enlightened yoga experience of connectedness with all things.
Like minded Community
Asana for EVERY body
Present Power Movement
Early Morning Meditation
Walking Meditation in the Gardens
Pranayama Practices
Sunrise on the Lake
Cutting Edge Environmental Documentaries
Nature Trails and Beautiful Campus
The famous Omega Dining Room where all the fabulous people who come to Omega for so many teachers, hang out and share meals
Omega Center for Sustainable Living
Click here for more Information & Registration
.
MORE ABOUT LORRAINE'S ALIGN & FLOW CLASSES!
Not just another yoga class! Delve deep into your yoga practice through the exploration of body, mind and soul! Learn and practice powerful Therapeutic Alignment Principles. Enjoy creative and unique sequences, pranayama, meditation with soulful themes and inquiry. Be challenged and inspired, leave transformed!
Zen Meditation (Zazen)

and Dharma talk


With Don Zezulinski, Ordained Lay Zen Buddhist Priest and
Abbott of the Clear Mountain Zen Center
Sundays 9:00-11:30am
PLEASE ARRIVE ON TIME to be seated by 9:00am.
NO EXPERIENCE REQUIRED, ALL WELCOME.
By Donation
Ashtanga Yoga Semi-Private Yoga Classes
4 Mondays, June 4, 11, 18 and 25 – 6:30-7:40pm
Contact Lorraine to register and for fee information.
4 Tuesdays, June 5, 12, 19 and 26 – 11:45am-12:45pm
By donation, 50% goes to the charities of the month.
ALL WELCOME!
Monday and Thursday Align & Flow classes with Lorraine are held at
Glenwood Life Center , 71 Grove Street, Glenwood Landing NY 11547 –
See Google Map for directions.